Category: semiconductor
Manufacturer: TECHNIPOWER, INC.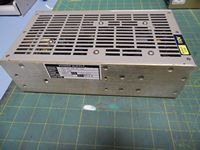 Part Number: TBC-24-24-X1-X2
Description: 100 VAC POWER SUPPLY
At Direct Repair Labs, we have experience repairing semiconductor parts manufactured by TECHNIPOWER, INC. including the TBC-24-24-X1-X2. DRL specializes in precision machinery repair for robots, stages, laser assemblies, boards, controllers, power supplies and motors. Our skilled team has repaired TECHNIPOWER, INC. parts including TBC-24-24-X1-X2, and our intellectual property for fixing the TBC-24-24-X1-X2 helps us to fix it quickly, so you can get back to work. Get a Quote by contacting us today.